CASCADE III
CASCADE Community of Practice Site
California Governor's Office of Planning and Research: CASCADE III
The California Advanced Supply Chain Analysis and Diversification Effort (CASCADE) is an initiative funded by the U.S. Department of Defense to bolster California's defense supply chain cybersecurity resilience through technical assistance programs, and to support the growth and sustainment of California's cybersecurity workforce through cybersecurity-related education curricula, training, and apprenticeship programs.
El Camino College has received grant money from the Department of Defense (DOD) through the California Governor's Office of Planning and Research to deliver cybersecurity-related training that meets CASCADE's goal of bolstering California's defense supply chain cybersecurity resilience. The El Camino College training program, called the Defense Supply Chain Cyber Resilience Labs, is designed to help small-to medium-size businesses understand DOD regulations and how to progress toward compliance with them.
This project will team students and faculty from the information communications technology (ICT) discipline to work with SBIR firms. Twenty (20) student interns coached by ten (10) faculty from community colleges across California will be matched with ten (10) SBIR firms. Student internships and faculty externship stipends are funded by a The U.S. Department of Defense Office of Local Defense Community Cooperation (OLDCC) grant through the California Governor's Office of Planning and Research (OPR). The Foundation for California Community Colleges (FCCC) acts as the employer of record and handles all the payroll and workers compensation for the student interns.
To be considered for participation in this project, please complete this application.
For a list of Participants, please visit PARTICIPANTS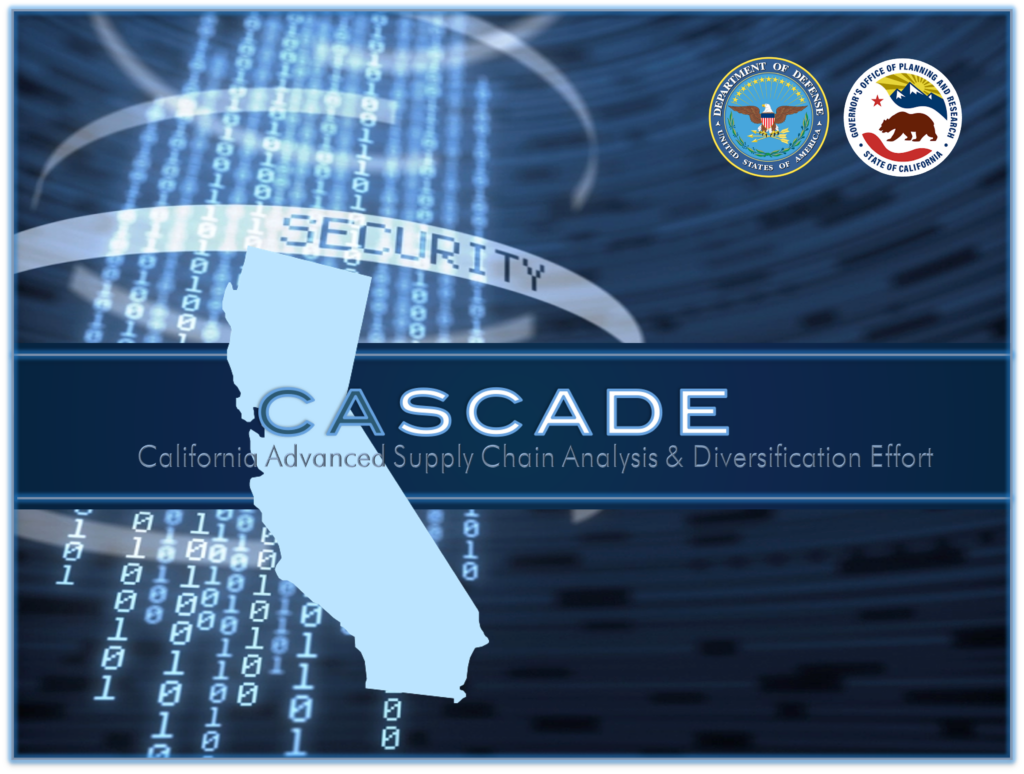 "The erosion of American manufacturing capacity and capability over the last several decades threatens to undermine the ability of U.S. suppliers in the innovation and manufacturing base to meet national security requirements. Addressing these challenges requires a multi-faceted approach that builds on close partnerships between DoD, state and local governments, institutions of higher education, business, and non-profit organizations. California's defense innovation and manufacturing ecosystems play a premier role in safeguarding the mission readiness and enhancing the lethality of the American Armed Forces."

Eileen Sanchez
CADENCE Program Manager
California Governor's Office of Planning and Research
Dual-use capabilities support innovation in the defense industrial base

Dual-use strategies allow the DoD to exploit the rapid rate of innovation and market-driven efficiencies of commercial industry. Conversely, the innovation and accomplishments that originate in defense programs and laboratories can move rapidly to the commercial sector to help advanced manufacturing ecosystems built on common manufacturing and design challenges.
Access to a workforce pipeline is critical for Defense Industrial Base

Providing an experiential learning opportunity where both faculty and students can benefit from real world applications allows Colleges to benefit from Faculty who understand and subsequently bring the needs of industry to the classroom and infuse industry-validated curriculum into their educational programs. Defense manufacturing community consortium firms will benefit from access to a pipeline of talent to meet their workforce needs.
Contact us for a listing of the Regional Key Talent near you.
THIS COMMUNICATION IS FUNDED BY A U.S. DEPARTMENT OF DEFENSE, OFFICE OF LOCAL DEFENSE COMMUNITY COOPERATION GRANT THROUGH THE CALIFORNIA GOVERNOR'S OFFICE OF PLANNING AND RESEARCH.
CONTENT DOES NOT NECESSARILY REFLECT THE VIEWS OF THE CALIFORNIA COMMUNITY COLLEGES, U.S. DEPARTMENT OF DEFENSE OFFICE OF ECONOMIC ADJUSTMENT, OR THE CALIFORNIA GOVERNOR'S OFFICE OF PLANNING AND RESEARCH.