North Region / Greater Sacramento
Hosted By: Sacramento Valley Manufacturing Alliance
Jeff Briggs, jeff.briggs@avocetsales.com
Industry Focus
Advanced Manufacturing Programs in the North Region have provided customized training and technical support to manufacturers and technology companies in the greater Sacramento area since 1992. As a result, these businesses have become more profitable and competitive.
Clients benefit from training in Process Improvement, Lean Manufacturing, Design Thinking, Rapid Prototyping, Zero Waste Certification, Systematic Problem Solving, Project Management, Supervision, Business Software, Business Communication, Introductory Electrical & Lighting Retrofit and Multi Core Curriculum (MC3 pre-apprenticeship).
In addition, the Center for Applied Competitive Technologies at Sierra College gives entrepreneurs access to rapid prototyping and other manufacturing technologies. To prepare the future workforce for manufacturing careers, the CACT supports career technical education programs in Mechatronics, Engineering, Welding, Drafting & Engineering Support and Construction & Energy Technology at the high school and college level.
Core Competencies
Process Improvement and Lean Manufacturing
Design Thinking and Rapid Prototyping
Business Innovation, Research & Development and Entrepreneurial Resources
Current Customers
Air Systems
California Department of Agriculture
California Conservation Corps
Continuous Improvement Network
InventX
ISS Facilities Services
Keysight Technologies
Northrop Grumman
Rex Moore Electrical Contractors
Robbjack
Western Area Power Administration
Special Projects
Hacker Lab — Innovation and Design Thinking
Through a partnership with Hacker Lab, Sierra College has opened a co-working and maker space in Rocklin with tools, training and start-up resources. Technology companies introduce new products and offer training to the developer community at Hacker Lab to find new applications for cutting-edge technical tools. Design, 3D Printing and other maker workshops enable inventors to prototype new products. Companies utilize the co-working space for innovation teams to create new products and services outside of the confines of the corporate office. Entrepreneurs become part of a supportive start-up community.
Zero Waste Business Certification
The U.S. Zero Waste Business Council offers certification for facilities and professionals. In partnership with Sierra College CACT, the U.S. Zero Waste Business Council developed new curriculum for training professionals to become certified as Zero Waste Business Associates (ZWBA) and guide businesses in preparing for the third-party Zero Waste Business Certification program for facilities. Sustainable manufacturers become more efficient and save money by reusing, recycling, reducing waste and designing products to minimize packaging materials. Workshops are held regularly and one-on-one coaching for manufacturers is also available.
Manufacturing Day & Nontraditional Employment for Women
To meet manufacturers' need for skilled employees, Sierra College CACT sponsors events and partners with organizations to give students a real world introduction to technical and manufacturing careers. With SME Sacramento Valley chapter, CACT connects teachers and students with manufactures for tours and events in support of the National Manufacturers Day. The Sierra College Nontraditional Employment for Women (NEW) events brings 100 high school girls to the Rocklin campus where they build projects in Career Technical Education classrooms and meet design, engineering and manufacturing professionals who provide mentoring. Sierra College CACT is the conduit for sharing information among educators and industry partners through the Sierra STEM Collaborative.
For more information about the North Region (Greater Sacramento) and other college programs, click here.
For more information about the Far North Region and other college programs, click here.
For more information about theFar North Region Consortia and other college programs, click here.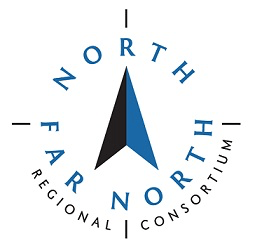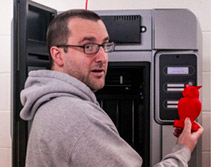 Hacker Lab member shows a design produced on the 3D printer provided by Sierra College CACT.
3D Printing
To help manufacturers gain a deeper understanding of how 3D printing and rapid prototyping could benefit their businesses, Sierra College CACT published a report by Neal de Beers, Ph.D. Additive Manufacturing Turning Mind into Matter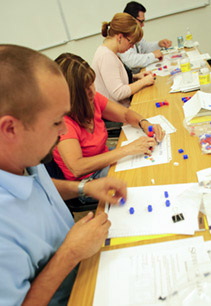 During a CACT training, participants practice Lean methods to increase quality and production speed.
Lean Productivity Gain
"After attending the Lean training provided by Sierra College CACT with the Continuous Improvement Network, we used 7S to improve our parts house and restocking methods. Applying 7S cut the time to restock trucks in half and gained nearly eight hours of productivity per day. Employees were really excited by how much better it worked and now we are standardizing our process to transfer it to other technicians."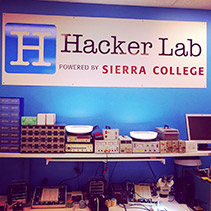 Electronics Lab at the Hacker Lab powered by Sierra College in Rocklin where entrepreneurs can develop, test and repair their projects.